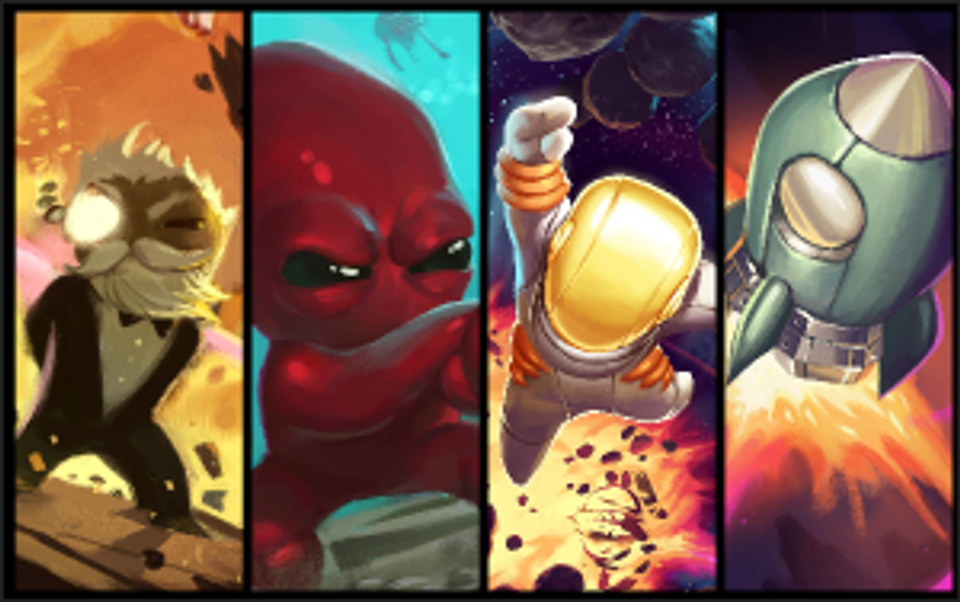 As of today, we have successfully overhauled and republished our four most popular games on Android: Towelfight 2, Quadropus Rampage, Roid Rage, and Flop Rocket. The major purpose of these updates was to establish our new cross-game login system, BscotchID. Each game now has BscotchID integration, which adds cross-game content (Perks), cloud saving, friends, messaging, and friends-only leaderboards.
(Reserve your BscotchID here.)
Why BscotchID Fixes Everything
When designing games, we often found ourselves trapped in endless debates about exactly how to make those games commercially viable through the use of in-app purchases (IAPs). We'd spend days and weeks debating price-points and building in-game shops, currency systems, content bundles, you name it. We didn't want to be doing that, but we felt we had no other alternative. IT WAS MADDENING.
All we really wanted was to be able to go back to the model where we make a game and our players buy it. And after many frustrating design discussions regarding how to get damnable IAPs into Crashlands without making the game suck (seriously, look at the tomfoolery we had to come up with), we decided we couldn't work like that anymore. So from here on out, we're done with all that crap, and BscotchID is our ticket out of this freak show. It's time we made our own rules.
The BscotchID "Butter Up" Value Proposition
All future games will consist of a free, ad-supported, "lite" version and a single, reasonably-priced IAP that gives access to the full game and full BscotchID access. We call this IAP the Butter Up. We believe in our games and know they are fun, and so we are using the demo strategy: try our games for free, find out you love them, and then buy the full version if you want even more awesomeness. My god... it's so simple.
So, aside from the full version of a given game, what else does a player get for Buttering Up?
Cloud voodoo.
With BscotchID, a custom system that we built from scratch and can modify and redesign as we please, we can use the magic of the Internet to make our games more portable. Buttered Up players can sync their progress between devices and, soon, across platforms (once you've buttered up on that platform). And, for the future, we'll be able to build multiplayer capabilities into upcoming games using this platform.
A new community.
Friends lists, messaging, friends-only leaderboards, global leaderboards (in the future), and the absence of anxiety that only a strict "Don't be a jerk" policy can provide.
Increasing value per Buttered Up game.
The current launch includes 32 cross-games Perks. Each Perk allows you to unlock access to content in one game by an achievement made in another game (Butter Up is required in both games). For example, players who defeat Pete in Quadropus Rampage will find Grubby selling a Pete 'Jectile in Towelfight 2. Or, for those skillful few who can make it all the way to space in Flop Rocket, you'll be able to pilot the Flop Rocket ship in Roid Rage, using the actual controls from Flop Rocket. Hint: It's really hard.
Altruism.
Once you're Buttered Up, you can buy additional Butter Ups and send them to your BscotchID friends! Now, if you have a friend you want to introduce to more Butterscotch games, you've got a way to reel them in! We've already had several of our testers go on gifting binges and Butter Up their entire friend lists. It's quite heartwarming.
SHUT UP ALREADY. WHAT DOES THIS MEAN FOR THE GAMES I ALREADY PLAY?
Butter Up is now the only IAP item in all games except Quadropus, since that game was designed around IAPs, and they are too entrenched to remove. Because all of the existing content in Towelfight 2 has been completely free, it will stay that way, while Buttering Up adds double coins and other bonuses. In Roid Rage, players can only access the starter ship and intern until they Butter Up. Flop Rocket, with its huge content patch that is only accessible via Butter Up, is the game that best reflects our intentions with the Butter Up model.
You can check out full patch notes here. OR ELSE.
Hungry for more? Get the biggest Bscotch news sent right to your inbox!