Butterscotch Chronicle: 7/7-7/14

Crashlands Updates
Last week was our first week of real, hardcore work in probably 9 months (since October), now that Sam's cancer shenanigans have come to a close. It's been pretty weird readjusting to life without the constant threat of impending doom and disaster, but we're getting back in the saddle. Here's a peek at some of the stuff we did!
New Creature: The Bamli!
If you've been on our forums, you know about the latest and greatest creature to come out of the Bawg. THE BAMLI. He's a flightless-bird-like walrus creature with a giant moustache.
His attack consists of slapping the ground to vault himself into the air, and then planting his hairspikes into the ground to suck electrical charge out of the planet itself. He then launches a barrage of randomly-moving electric projectiles while also creating an electric field around himself. Basically, if you have one as a pet, exercise caution, lest you accidentally aggro 400 enemies at once due to your Bamli's reckless attacks.
UI Improvements!
We've updated the font, cleaned up a bunch of clutter, and otherwise made your important information far more accessible. Of note are the new health bars in the top left to track your and your pet's health! We've also added a little "infostream" to the left side, which will pop up whenever you pick up items and such. So far, the health bars added to the top-left are just functional and haven't been "arted up" yet, but they do the job pretty nicely.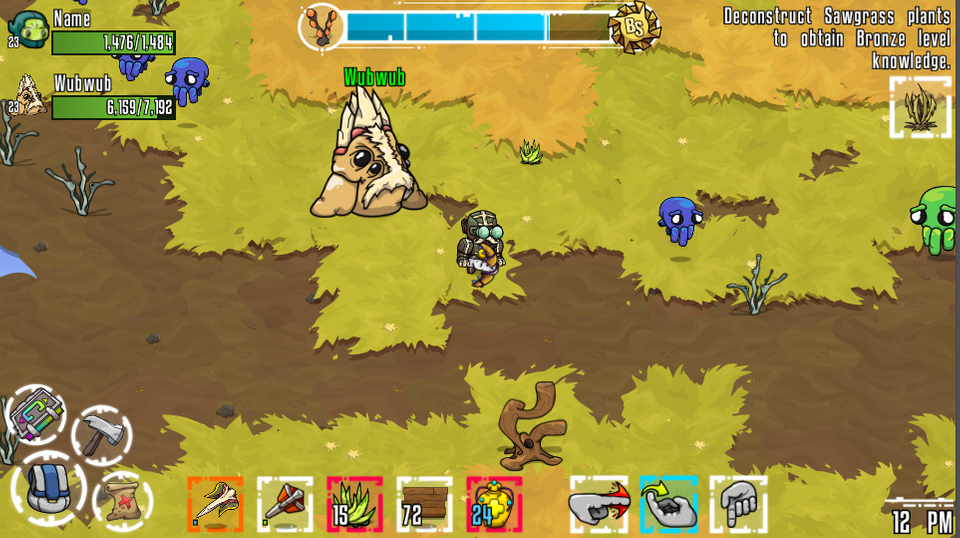 | Yeah, my name is NAME. DEAL WITH IT. And my Bamli is named Wubwub, of course. |
THE BAWG IS DONE!
After many a day of strife and effort, we've wrapped up the entirety of the second biome of Crashlands. We learned a lot in the process and now have a bizarre, acid-packed new zone to play around in. It took us quite a while to assemble because we're still nailing down the means by which to wrestle something this huge and condense it into bite-sized chunks when planning and designing, but we're getting closer all the time!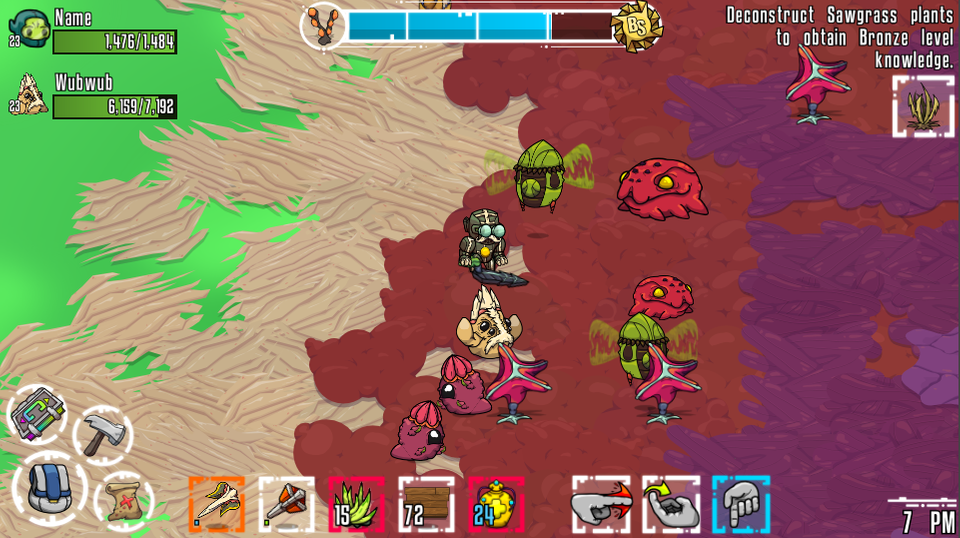 | WUBWUB, GET BACK HERE. EVERY TIME. I SWEAR. |
THE WINTRY TUNDRA HAS BEGUN!
We're taking all the lessons learned from building the Savanna and Bawg to make the WINTRY TUNDRA into something truly spectacular. Sam's art skills are really blossoming, particularly with the environment, and now that he's no longer drugged up on chemo he's become a stark-raving art lunatic, flinging sprites all over the place like Twisted Fate chucking cards in LoL. I might have a hard time keeping up.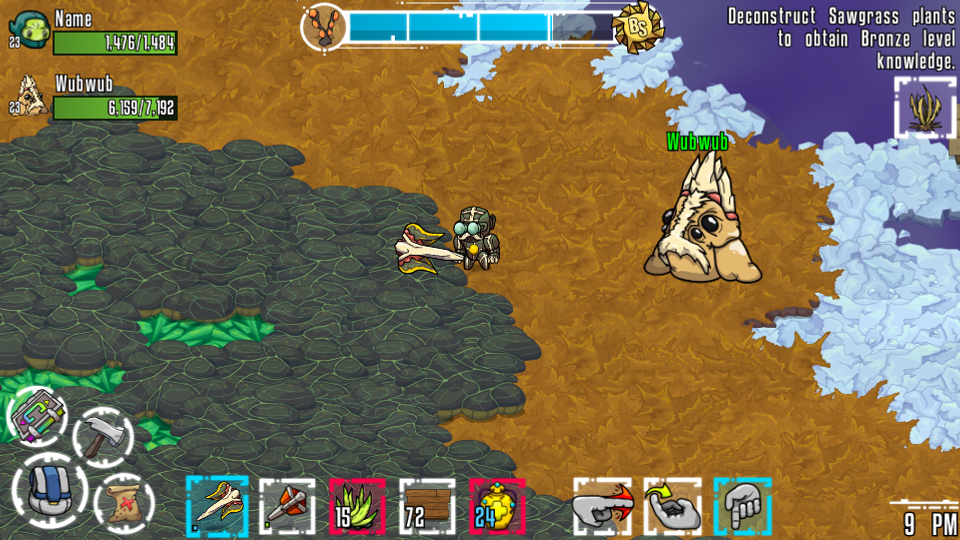 | Wubwub, gaze upon the beauty of the grassy plains of the Tundra. DANGIT WUBWUB I SAID GAZE. |
We're particularly pumped about the Wintry Tundra because it actually has two sub-biomes within it. One is more of a "lush" area (above), while the other is more desolate and alien. Currently we haven't plugged any resources into it, but we'll have some more screenshots of the resources and creatures of the Tundra as the next couple weeks unfold.
STATS TRACKING!
This is something we've been wanting to do for a long time, but I finally had the time to hook it up while Sam was fleshing out the look of the Wintry Tundra. We now have, on the right side of the Compendium, a full, detailed account of all the stuff you've been up to. It even breaks down your activity within each biome! WOOHOO!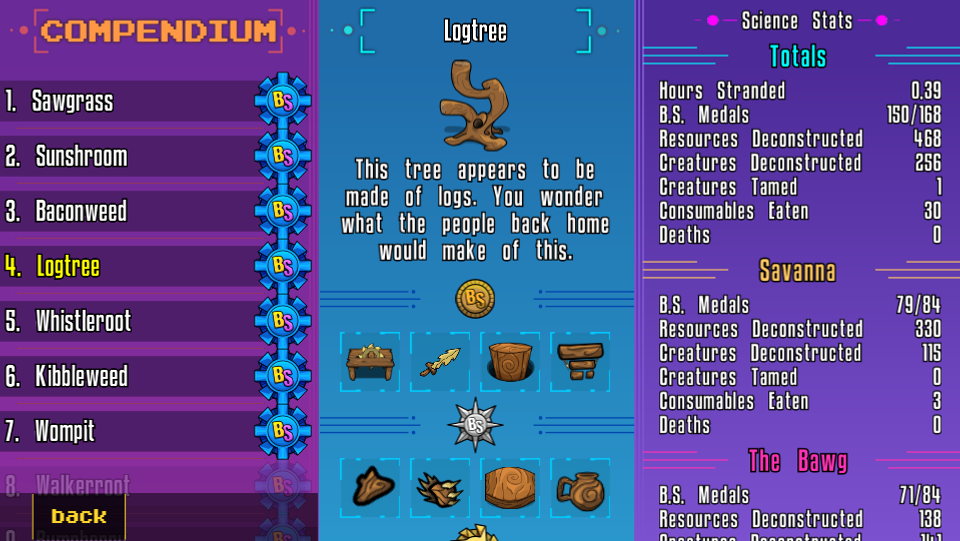 Met with Kamcord!
They sent us brownies, so we of course had to sit down and meet with them. We told them that if they made a Game Maker extension, we'd definitely want to hook Kamcord up to our games. They said they'd think about looking into doing that... sometime next year. WELL! Butterscotch fans, if you want to have Kamcord hooked up to Crashlands (and our future games) so you can record video of all your escapades, feel free to shoot Kamcord an email to let them know they should totally get on that.
BScotch in the Community
8-Bit Dev Pipe: ROUND 2!
A few months ago we had an idea to start up a mentorship program here in St. Louis, wherein we work with small indie teams to help them make their dream games a reality. The first round went great, and we have gone through and overhauled the process, which means it's time for ROUND TWO! We've put up all the info here, and we'll be hosting the 8-Bit Dev Pipe kickoff next Monday. If you're in St. Louis and have an interest in being part of a community effort, in which a bunch of people get together, form teams, and make full games over 8 weeks, then GET SIGNED UP! We have signups over at the St. Louis Game Developers meetup group.
October Game Jam: WE'RE ORGANIZING IT!
Game Jams have been going on in St. Louis for about 4 years now, and we've consistently had at least 3 per year, which means we've had somewhere around a dozen game jams here. Still, they're hugely daunting things to put together, and we typically have about 150 people at any given jam. As a result, the previous crop of organizers have hit something of a burn-out stage and asked for volunteers to take the reins. So here we are!
The next jam is tentatively set for October 3-5, so if you're around St. Louis (or close-ish), you should definitely come. We'll have more info as details get pinned down!
THE END
That's all we've got for this week's Butterscotch Chronicle. Stay tuned for more next week, and as always, you can find us on the Butterscotch Forums!
Hungry for more? Get the biggest Bscotch news sent right to your inbox!